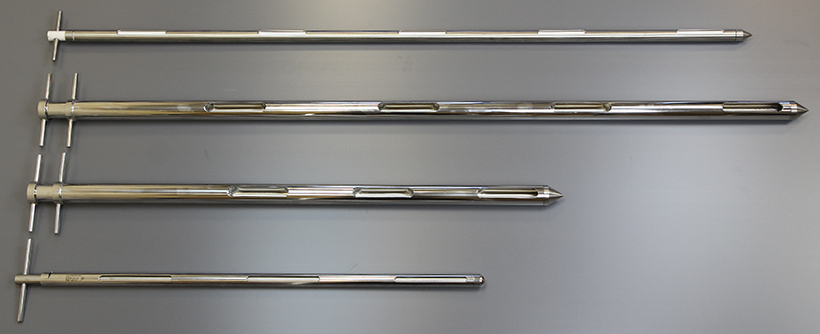 De Slot Sampler van Sampling Systems is een zoneverzamelaar voor droge producten: poeders, kristallen of granulaten. Slot sampler neemt relatief grote monsters op verschillende niveau's uit een container, vat of zak. Het monster is een samenstelling van de 3 of 4 niveau's. Deze pagina bevat informatie over de RVS (Inox) uitvoering maar de Slot Sampler is ook verkrijgbaar in disposable plastic uitvoering (eventueel in steriele verpakking).
WERKWIJZE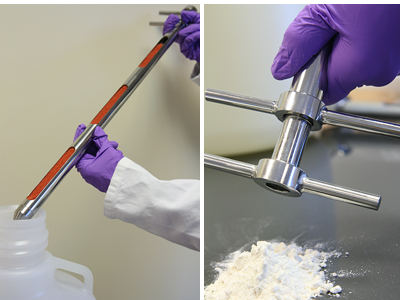 De Slot Sampler is als een buis die diep in het product gestoken wordt. De sampler beschikt over een aantal openingen waarlangs het product naar binnen kan vloeien.  Met het tweede handvat worden de vul-openingen (slots) dichtgedraaid. De Slaot sampler wordt vervolgens uit het product getrokken en wanneer deze omgedraaid wordt kan het bemonsterde product weer uitstromen.
SCHEMATISCH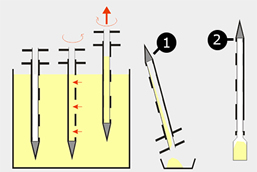 OPTIES

De Slot sampler kan optioneel voorzien worden van een fleshouder: hierdoor kan het monster direct in een fles van 250ml of 500ml gegoten worden voor verdere analyse. De Slot sampler is standaard voorzien van een conische tip. Optioneel zijn ronde tips verkrijgbaar.
Slot Sampler Versies

| Part.no | Fles | Lengte | Diamtr | Mat | Vol | Slots |
| --- | --- | --- | --- | --- | --- | --- |
| 1210A-300 | Nee | 300mm | 25mm | 316L | 45ml | 3 |
| 1210A-600 | Nee | 600mm | 25mm | 316L | 110ml | 3 |
| 1210A-1000 | Nee | 1000mm | 25mm | 316L | 190ml | 4 |
| 1210A-1500 | Nee | 1500mm | 25mm | 316L | 300ml | 5 |
| 1210A-2000 | Nee | 2000mm | 25mm | 316L | 370ml | 5 |
| 1210B-600 | Ja(*) | 600mm | 25mm | 316L | 110ml | 3 |
| 1210B-1000 | Ja(*) | 1000mm | 25mm | 316L | 190ml | 4 |
| 1210B-1500 | Ja(*) | 1500mm | 25mm | 316L | 300ml | 5 |
| 1210K-1000 | Nee | 600mm | 40mm | 316L | 750ml | 3 |
| 1210K-1500 | Nee | 1000mm | 40mm | 316L | 1000ml | 4 |
| 1210K-2000 | Nee | 1500mm | 40mm | 316L | 1300ml | 5 |
| 1210J-900 | Nee | 900mm | 50mm | Alu** | 880ml | 3 |
| 1210J-1500 | Nee | 1500mm | 50mm | Alu** | 1700ml | 5 |
| 1210J-2500 | Nee | 2500mm | 50mm | Alu** | 2900ml | 7 |
(*) Vergeet niet monsterflesjes te bestellen
(**) Alu Samplers zijn niet geschikt in GMP omgeving: gebruik RVS
Accessoires

| Part.no | Accessoire |
| --- | --- |
| 8165A-250 | Monsterfles HDPE 250ml |
| 8165A-500 | Monsterfles HDPE 500ml |
| TIP2 | Ronde tip voor 25mm samplers (1210A+1210B) |
| TIP3 | Ronde tip voor 50mm samplers  (1210K) |
| Brush1 | Schoonmaak borsteltjes (Contacteer ons) |
| Case1 | Transportkoffers (Contacteer ons) |
| XRF | Materiaalcertificaat (Contacteer ons) |