> Handbediende Labeler voor kleine/Lichte flessen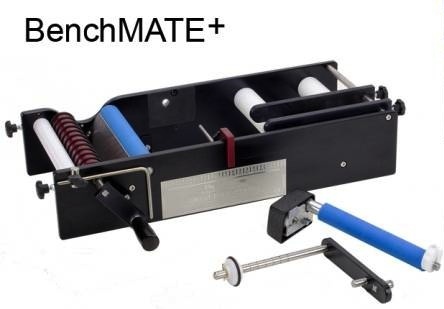 BenchMATE+ : "Nog steeds Klein maar nu nog dapperder" :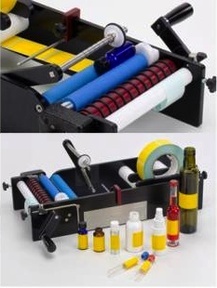 De standaard BenchMATE is reeds ongelooflijk veelzijdig maar voor flesjes of andere cilindertjes met een diameter kleiner dan 55 mm moet u de BenchMATE+ overwegen. Ook wanneer flessen met laag gewicht of lege recipienten moeten ge-labeled worden is dit toestel de beste keuze.
De BenchMATE+ is voorzien van 2 extra toebehoren die dit mogelijk maken:
1./ SCA: Small Container Adapter: Deze extra aandrijfrol maakt de afstand tussen de rollen smaller waardoor ook flesjes met een diameter vanaf slechts 15mm passen.
2./ Aandrukwiel: De as met derde rolletje wordt door een veersysteem op het kleine/lichte flesje gedrukt om meer druk en stabiliteit te bieden tijdens het etiketteerproces
BenchMATE-plus VIDEO's :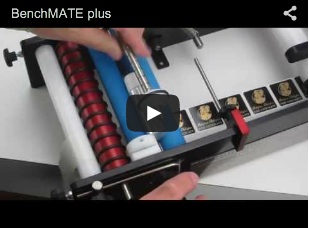 verschillende flessen labelen:
Video over etiketteren van kleine glazen vials (proefbuisjes) met een diameter van 15mm, glazen medicijnflesjes, aluminium buisjes, lichtgewicht plastic flesjes en andere recipiënten
In het flmpje is te zien hoe de SCA (small container adapter) gemonteerd is: Deze extra rol wordt ook aangedreven door de zwengel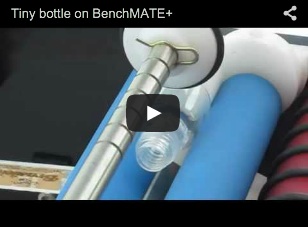 Detail opname: kleine flesjes:
Stickeren van kleine, onstabiele flesjes met de BenchMATE+ . Het gebruik van het aandrukwiel is hier goed te zien: met dit systeem wordt het flesje goed in de blauwe rollen gedrukt.
Door het aandrukwiel te combineren met de SCA kunnen flesjes vanaf 14mm doormeter ook perfect gelabeld worden met de benchMATE+